by Iry Notoavina Randriamalala
Do you have a car addict in your circle of friends or your family? Are you trying to impress them with the things they are passionate about but don't know what to do? If you answered yes to both questions, this one is for you. It is not always easy to get a gift for a car addict. They either want something that costs an arm and a leg or are fine with whatever they already have. As far as I am concerned, I don't ask much, the latest Ferrari 488 Spider is enough (obvious joke). We at NINTE curated a list of car accessories gift ideas that you can get your loved ones without breaking the bank (Yes, that's possible, even with car accessories!)
The little things
You can do many small modifications and customization with a limited budget. However, despite the small budget, they don't have to look and feel cheap. We suggest you to get some covers, like this carbon fiber decoration panel for Jeep Wrangler. For a price below $50 you can give his (her) car a premium look. Of course, you can cover any parts of the car: rear-view mirror, door handle, window button panel and much more. And as a bonus to this one, they will never figure out what's inside the gift wrap (if you decide to do so) since it is not car parts shaped (surprise!).
Front Grille

 
If you up your budget a little bit, you can get them a Grille. If you choose to get them only one car customization accessory for the rest of their life, this ought to be it! It makes the car stand out at first glance (since it's the first thing we notice, duh!). Putting a front grille to your car is similar to wearing make up. You can do without it but wearing it makes a world of difference. This is our "best single gift" choice in NINTE.
Front Lip

 
This is complementary to the previous one. The Front Lip will not only make the car look bad-ass (check the picture below if you don't know what bad-ass means) but also protect it. Among all the car accessories we list here, this is the only one that has a 2-in-1 function (so you can tell the giftee that you got them two gifts, but not really. Amazing right?). This is in the same budget as the Front Grille, also fairly priced for what it brings.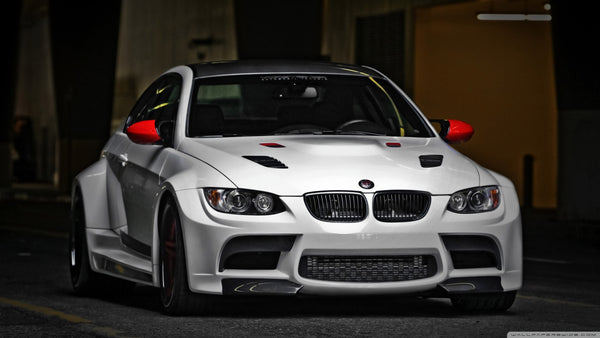 Rear Spoiler

 
The front of your car might be the first thing that people notice but the rear of the car is a close second. When driving, all we can see is the rear of the car in front of us. Let me tell you, as a car lover, we drool over a well customized rear. Installing a rear spoiler is a good first step in getting other's envy (they will want to, haha). In addition, for some cars it may also help with the car's aerodynamics (basically it may give a better driving experience).
Personalized car mats

 
Last but not least: personalized car mats. For a budget below $200 you can get a all weather customized leather floor mat for his (her) car. Previous gifts ideas were all for us and for others to see but customizing your car's interior is on a more personal level. Everyone can get to see your car's exterior look but only you and your loved ones can experience the feel and the smell of a good, customized car interior.
Eyelashes (Bonus)

 
Yes, ACTUAL EYELASHES, it exists. We list this one as a bonus as it is made for a very specific type of people. This is a car accessory gift for her that likes fashion and is willing to go the extra mile for customization. With this one, her car can also look as beautiful as she is and for a price below $20. Many "exceptional" car accessories exist out there, but this is – in my opinion – among the ones that are original, not too extravagant and fairly priced.
We hope that you have found the ideal gift for your car lover friends and relatives in our list. For every budget, there is always something that you can buy: a mirror cover for an enhanced classy look at a small price or a Front Grille that is our top pick for budget friendly gifts. That said, you cannot go wrong with whichever you choose from our list.
--------------------------------------------------------------------------------------------------------------------------------------------------
NINTE provides the highest-quality car customization and decoration accessories: Spoiler, Front Lip, Front Grille and much more. We offer very competitive price and free shipping in many parts of the world. Have a look at our head-turning products.