NINTE Grille Cover For 2011-2016 Ford F-250 F-350 F-450 ABS Painted Grille overlay
Customers are viewing this product
NINTE Grille Cover For 2011-2016 Ford F-250 F-350 F-450 ABS Painted Grille overlay
Item Specifics
| | |
| --- | --- |
| Brand: | NINTE |
| Condition: | New |
| Color: | Chrome / Gloss Black |
| Fitment: | For Ford 2011 2012 2013 2014 2015 2016 F250 F350 F450 |
| Condition: | 100% Brand New Unused (Quality checked before shipping out) |
| Material: | Highest Quality ABS |
| Package: | 1 Set       |
| Attachment method: | Tape on |
| Warranty: | yes |
Important Notice
This item is NOT a grille replacement.

Without super duty logo on the surrounding cover.

This is grille cover tape on to your existing grille.
Installation Instruction
Step 1 Clean the surface which the item is to be applied, insure dry and free of all oil, grease and wax.

Step 2 Determine exact location of item.

Step 3 Remove protective film from adhesive, align carefully and then press firmly to insure proper adhesion.

Step 4 Do not move the item or wash your car within 24 hours after installation.
Note :
Technical specification installation.

There are 3M double-sided automatic tape on the back of the article.

Waterproof, non-fading, non-rusting, do not affect car washing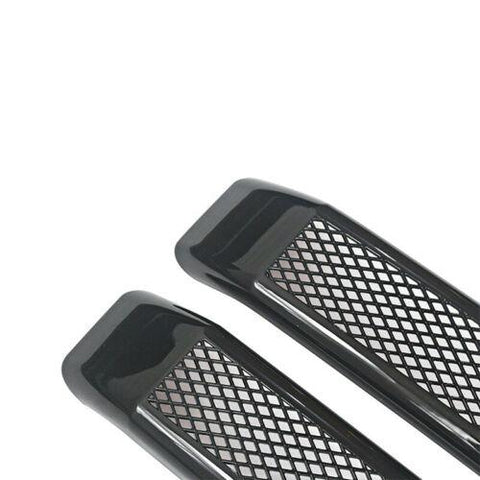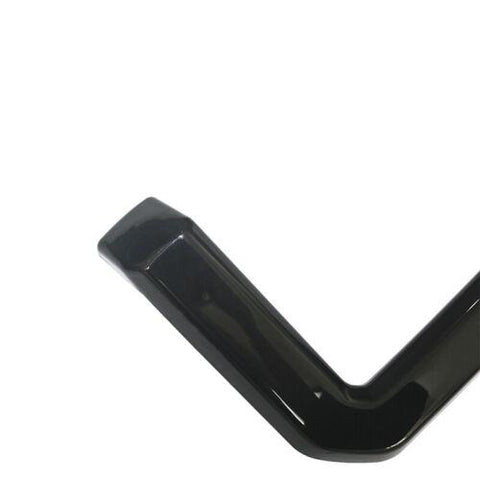 Fit more than one vehicles:
Year
Make
Model
Trim
Engine
2016
Ford
F-250 Super Duty
King Ranch Crew Cab Pickup 4-Door
6.2L 6210CC 379Cu. In. V8 FLEX SOHC Naturally Aspirated
2016
Ford
F-250 Super Duty
King Ranch Crew Cab Pickup 4-Door
6.7L 6651CC 406Cu. In. V8 DIESEL OHV Turbocharged
2016
Ford
F-250 Super Duty
Lariat Crew Cab Pickup 4-Door
6.2L 6210CC 379Cu. In. V8 FLEX SOHC Naturally Aspirated
2016
Ford
F-250 Super Duty
Lariat Crew Cab Pickup 4-Door
6.7L 6651CC 406Cu. In. V8 DIESEL OHV Turbocharged
2016
Ford
F-250 Super Duty
Lariat Extended Cab Pickup 4-Door
6.2L 6210CC 379Cu. In. V8 FLEX SOHC Naturally Aspirated
2016
Ford
F-250 Super Duty
Lariat Extended Cab Pickup 4-Door
6.7L 6651CC 406Cu. In. V8 DIESEL OHV Turbocharged
2016
Ford
F-250 Super Duty
XL Crew Cab Pickup 4-Door
6.2L 6210CC 379Cu. In. V8 FLEX SOHC Naturally Aspirated
2016
Ford
F-250 Super Duty
XL Crew Cab Pickup 4-Door
6.7L 6651CC 406Cu. In. V8 DIESEL OHV Turbocharged
2016
Ford
F-250 Super Duty
XL Extended Cab Pickup 4-Door
6.2L 6210CC 379Cu. In. V8 FLEX SOHC Naturally Aspirated
2016
Ford
F-250 Super Duty
XL Extended Cab Pickup 4-Door
6.7L 6651CC 406Cu. In. V8 DIESEL OHV Turbocharged
2016
Ford
F-250 Super Duty
XL Standard Cab Pickup 2-Door
6.2L 6210CC 379Cu. In. V8 FLEX SOHC Naturally Aspirated
2016
Ford
F-250 Super Duty
XL Standard Cab Pickup 2-Door
6.7L 6651CC 406Cu. In. V8 DIESEL OHV Turbocharged
2016
Ford
F-250 Super Duty
XLT Crew Cab Pickup 4-Door
6.2L 6210CC 379Cu. In. V8 FLEX SOHC Naturally Aspirated
2016
Ford
F-250 Super Duty
XLT Crew Cab Pickup 4-Door
6.7L 6651CC 406Cu. In. V8 DIESEL OHV Turbocharged
2016
Ford
F-250 Super Duty
XLT Extended Cab Pickup 4-Door
6.2L 6210CC 379Cu. In. V8 FLEX SOHC Naturally Aspirated
2016
Ford
F-250 Super Duty
XLT Extended Cab Pickup 4-Door
6.7L 6651CC 406Cu. In. V8 DIESEL OHV Turbocharged
2016
Ford
F-250 Super Duty
XLT Standard Cab Pickup 2-Door
6.2L 6210CC 379Cu. In. V8 FLEX SOHC Naturally Aspirated
2016
Ford
F-250 Super Duty
XLT Standard Cab Pickup 2-Door
6.7L 6651CC 406Cu. In. V8 DIESEL OHV Turbocharged
2016
Ford
F-350 Super Duty
King Ranch Crew Cab Pickup 4-Door
6.2L 6210CC 379Cu. In. V8 FLEX SOHC Naturally Aspirated
2016
Ford
F-350 Super Duty
King Ranch Crew Cab Pickup 4-Door
6.7L 6651CC 406Cu. In. V8 DIESEL OHV Turbocharged
2016
Ford
F-350 Super Duty
Lariat Cab & Chassis 4-Door
6.2L 6210CC 379Cu. In. V8 FLEX SOHC Naturally Aspirated
2016
Ford
F-350 Super Duty
Lariat Cab & Chassis 4-Door
6.7L 6651CC 406Cu. In. V8 DIESEL OHV Turbocharged
2016
Ford
F-350 Super Duty
Lariat Crew Cab Pickup 4-Door
6.2L 6210CC 379Cu. In. V8 FLEX SOHC Naturally Aspirated
2016
Ford
F-350 Super Duty
Lariat Crew Cab Pickup 4-Door
6.7L 6651CC 406Cu. In. V8 DIESEL OHV Turbocharged
2016
Ford
F-350 Super Duty
Lariat Extended Cab Pickup 4-Door
6.2L 6210CC 379Cu. In. V8 FLEX SOHC Naturally Aspirated
2016
Ford
F-350 Super Duty
Lariat Extended Cab Pickup 4-Door
6.7L 6651CC 406Cu. In. V8 DIESEL OHV Turbocharged
2016
Ford
F-350 Super Duty
XL Cab & Chassis 2-Door
6.2L 6210CC 379Cu. In. V8 FLEX SOHC Naturally Aspirated
2016
Ford
F-350 Super Duty
XL Cab & Chassis 2-Door
6.7L 6651CC 406Cu. In. V8 DIESEL OHV Turbocharged
2016
Ford
F-350 Super Duty
XL Cab & Chassis 4-Door
6.2L 6210CC 379Cu. In. V8 FLEX SOHC Naturally Aspirated
2016
Ford
F-350 Super Duty
XL Cab & Chassis 4-Door
6.7L 6651CC 406Cu. In. V8 DIESEL OHV Turbocharged
2016
Ford
F-350 Super Duty
XL Crew Cab Pickup 4-Door
6.2L 6210CC 379Cu. In. V8 FLEX SOHC Naturally Aspirated
2016
Ford
F-350 Super Duty
XL Crew Cab Pickup 4-Door
6.7L 6651CC 406Cu. In. V8 DIESEL OHV Turbocharged
2016
Ford
F-350 Super Duty
XL Extended Cab Pickup 4-Door
6.2L 6210CC 379Cu. In. V8 FLEX SOHC Naturally Aspirated
2016
Ford
F-350 Super Duty
XL Extended Cab Pickup 4-Door
6.7L 6651CC 406Cu. In. V8 DIESEL OHV Turbocharged
2016
Ford
F-350 Super Duty
XL Standard Cab Pickup 2-Door
6.2L 6210CC 379Cu. In. V8 FLEX SOHC Naturally Aspirated
2016
Ford
F-350 Super Duty
XL Standard Cab Pickup 2-Door
6.7L 6651CC 406Cu. In. V8 DIESEL OHV Turbocharged
2016
Ford
F-350 Super Duty
XLT Cab & Chassis 2-Door
6.2L 6210CC 379Cu. In. V8 FLEX SOHC Naturally Aspirated
2016
Ford
F-350 Super Duty
XLT Cab & Chassis 2-Door
6.7L 6651CC 406Cu. In. V8 DIESEL OHV Turbocharged
2016
Ford
F-350 Super Duty
XLT Cab & Chassis 4-Door
6.2L 6210CC 379Cu. In. V8 FLEX SOHC Naturally Aspirated
2016
Ford
F-350 Super Duty
XLT Cab & Chassis 4-Door
6.7L 6651CC 406Cu. In. V8 DIESEL OHV Turbocharged
2016
Ford
F-350 Super Duty
XLT Crew Cab Pickup 4-Door
6.2L 6210CC 379Cu. In. V8 FLEX SOHC Naturally Aspirated
2016
Ford
F-350 Super Duty
XLT Crew Cab Pickup 4-Door
6.7L 6651CC 406Cu. In. V8 DIESEL OHV Turbocharged
2016
Ford
F-350 Super Duty
XLT Extended Cab Pickup 4-Door
6.2L 6210CC 379Cu. In. V8 FLEX SOHC Naturally Aspirated
2016
Ford
F-350 Super Duty
XLT Extended Cab Pickup 4-Door
6.7L 6651CC 406Cu. In. V8 DIESEL OHV Turbocharged
2016
Ford
F-350 Super Duty
XLT Standard Cab Pickup 2-Door
6.2L 6210CC 379Cu. In. V8 FLEX SOHC Naturally Aspirated
2016
Ford
F-350 Super Duty
XLT Standard Cab Pickup 2-Door
6.7L 6651CC 406Cu. In. V8 DIESEL OHV Turbocharged
2016
Ford
F-450 Super Duty
King Ranch Crew Cab Pickup 4-Door
6.7L 6651CC 406Cu. In. V8 DIESEL OHV Turbocharged
2016
Ford
F-450 Super Duty
Lariat Cab & Chassis - Crew Cab 4-Door
6.7L 6651CC 406Cu. In. V8 DIESEL OHV Turbocharged
2016
Ford
F-450 Super Duty
Lariat Cab & Chassis - Extended Cab 4-Door
6.7L 6651CC 406Cu. In. V8 DIESEL OHV Turbocharged
2016
Ford
F-450 Super Duty
Lariat Crew Cab Pickup 4-Door
6.7L 6651CC 406Cu. In. V8 DIESEL OHV Turbocharged
2016
Ford
F-450 Super Duty
XL Cab & Chassis - Crew Cab 4-Door
6.7L 6651CC 406Cu. In. V8 DIESEL OHV Turbocharged
2016
Ford
F-450 Super Duty
XL Cab & Chassis - Crew Cab 4-Door
6.8L 415Cu. In. V10 CNG SOHC Naturally Aspirated
2016
Ford
F-450 Super Duty
XL Cab & Chassis - Crew Cab 4-Door
6.8L 415Cu. In. V10 GAS SOHC Naturally Aspirated
2016
Ford
F-450 Super Duty
XL Cab & Chassis - Crew Cab 4-Door
6.8L 415Cu. In. V10 LPG SOHC Naturally Aspirated
2016
Ford
F-450 Super Duty
XL Cab & Chassis - Extended Cab 4-Door
6.7L 6651CC 406Cu. In. V8 DIESEL OHV Turbocharged
2016
Ford
F-450 Super Duty
XL Cab & Chassis - Extended Cab 4-Door
6.8L 415Cu. In. V10 CNG SOHC Naturally Aspirated
2016
Ford
F-450 Super Duty
XL Cab & Chassis - Extended Cab 4-Door
6.8L 415Cu. In. V10 GAS SOHC Naturally Aspirated
2016
Ford
F-450 Super Duty
XL Cab & Chassis - Extended Cab 4-Door
6.8L 415Cu. In. V10 LPG SOHC Naturally Aspirated
2016
Ford
F-450 Super Duty
XL Crew Cab Pickup 4-Door
6.7L 6651CC 406Cu. In. V8 DIESEL OHV Turbocharged
2016
Ford
F-450 Super Duty
XL Crew Cab Pickup 4-Door
6.8L 415Cu. In. V10 CNG SOHC Naturally Aspirated
2016
Ford
F-450 Super Duty
XL Crew Cab Pickup 4-Door
6.8L 415Cu. In. V10 GAS SOHC Naturally Aspirated
2016
Ford
F-450 Super Duty
XL Crew Cab Pickup 4-Door
6.8L 415Cu. In. V10 LPG SOHC Naturally Aspirated
2016
Ford
F-450 Super Duty
XLT Cab & Chassis - Extended Cab 4-Door
6.7L 6651CC 406Cu. In. V8 DIESEL OHV Turbocharged
2016
Ford
F-450 Super Duty
XLT Cab & Chassis - Extended Cab 4-Door
6.8L 415Cu. In. V10 CNG SOHC Naturally Aspirated
2016
Ford
F-450 Super Duty
XLT Cab & Chassis - Extended Cab 4-Door
6.8L 415Cu. In. V10 GAS SOHC Naturally Aspirated
2016
Ford
F-450 Super Duty
XLT Cab & Chassis - Extended Cab 4-Door
6.8L 415Cu. In. V10 LPG SOHC Naturally Aspirated
2016
Ford
F-450 Super Duty
XLT Crew Cab Pickup 4-Door
6.7L 6651CC 406Cu. In. V8 DIESEL OHV Turbocharged
2016
Ford
F-450 Super Duty
XLT Crew Cab Pickup 4-Door
6.8L 415Cu. In. V10 CNG SOHC Naturally Aspirated
2016
Ford
F-450 Super Duty
XLT Crew Cab Pickup 4-Door
6.8L 415Cu. In. V10 GAS SOHC Naturally Aspirated
2016
Ford
F-450 Super Duty
XLT Crew Cab Pickup 4-Door
6.8L 415Cu. In. V10 LPG SOHC Naturally Aspirated
2016
Ford
F-550 Super Duty
Lariat Cab & Chassis - Crew Cab 4-Door
6.7L 6651CC 406Cu. In. V8 DIESEL OHV Turbocharged
2016
Ford
F-550 Super Duty
Lariat Cab & Chassis - Extended Cab 4-Door
6.7L 6651CC 406Cu. In. V8 DIESEL OHV Turbocharged
2016
Ford
F-550 Super Duty
XL Cab & Chassis - Crew Cab 4-Door
6.7L 6651CC 406Cu. In. V8 DIESEL OHV Turbocharged
2016
Ford
F-550 Super Duty
XL Cab & Chassis - Crew Cab 4-Door
6.8L 415Cu. In. V10 CNG SOHC Naturally Aspirated
2016
Ford
F-550 Super Duty
XL Cab & Chassis - Crew Cab 4-Door
6.8L 415Cu. In. V10 GAS SOHC Naturally Aspirated
2016
Ford
F-550 Super Duty
XL Cab & Chassis - Crew Cab 4-Door
6.8L 415Cu. In. V10 LPG SOHC Naturally Aspirated
2016
Ford
F-550 Super Duty
XL Cab & Chassis - Extended Cab 4-Door
6.7L 6651CC 406Cu. In. V8 DIESEL OHV Turbocharged
2016
Ford
F-550 Super Duty
XL Cab & Chassis - Extended Cab 4-Door
6.8L 415Cu. In. V10 CNG SOHC Naturally Aspirated
2016
Ford
F-550 Super Duty
XL Cab & Chassis - Extended Cab 4-Door
6.8L 415Cu. In. V10 GAS SOHC Naturally Aspirated
2016
Ford
F-550 Super Duty
XL Cab & Chassis - Extended Cab 4-Door
6.8L 415Cu. In. V10 LPG SOHC Naturally Aspirated
2016
Ford
F-550 Super Duty
XLT Cab & Chassis - Crew Cab 4-Door
6.7L 6651CC 406Cu. In. V8 DIESEL OHV Turbocharged
2016
Ford
F-550 Super Duty
XLT Cab & Chassis - Crew Cab 4-Door
6.8L 415Cu. In. V10 CNG SOHC Naturally Aspirated
2016
Ford
F-550 Super Duty
XLT Cab & Chassis - Crew Cab 4-Door
6.8L 415Cu. In. V10 GAS SOHC Naturally Aspirated
2016
Ford
F-550 Super Duty
XLT Cab & Chassis - Crew Cab 4-Door
6.8L 415Cu. In. V10 LPG SOHC Naturally Aspirated
2016
Ford
F-550 Super Duty
XLT Cab & Chassis - Extended Cab 4-Door
6.7L 6651CC 406Cu. In. V8 DIESEL OHV Turbocharged
2016
Ford
F-550 Super Duty
XLT Cab & Chassis - Extended Cab 4-Door
6.8L 415Cu. In. V10 CNG SOHC Naturally Aspirated
2016
Ford
F-550 Super Duty
XLT Cab & Chassis - Extended Cab 4-Door
6.8L 415Cu. In. V10 GAS SOHC Naturally Aspirated
2016
Ford
F-550 Super Duty
XLT Cab & Chassis - Extended Cab 4-Door
6.8L 415Cu. In. V10 LPG SOHC Naturally Aspirated
2015
Ford
F-250 Super Duty
King Ranch Crew Cab Pickup 4-Door
6.2L 6210CC 379Cu. In. V8 FLEX SOHC Naturally Aspirated
2015
Ford
F-250 Super Duty
King Ranch Crew Cab Pickup 4-Door
6.7L 6651CC 406Cu. In. V8 DIESEL OHV Turbocharged
2015
Ford
F-250 Super Duty
Lariat Crew Cab Pickup 4-Door
6.2L 6210CC 379Cu. In. V8 FLEX SOHC Naturally Aspirated
2015
Ford
F-250 Super Duty
Lariat Crew Cab Pickup 4-Door
6.7L 6651CC 406Cu. In. V8 DIESEL OHV Turbocharged
2015
Ford
F-250 Super Duty
Lariat Extended Cab Pickup 4-Door
6.2L 6210CC 379Cu. In. V8 FLEX SOHC Naturally Aspirated
2015
Ford
F-250 Super Duty
Lariat Extended Cab Pickup 4-Door
6.7L 6651CC 406Cu. In. V8 DIESEL OHV Turbocharged
2015
Ford
F-250 Super Duty
XL Crew Cab Pickup 4-Door
6.2L 6210CC 379Cu. In. V8 FLEX SOHC Naturally Aspirated
2015
Ford
F-250 Super Duty
XL Crew Cab Pickup 4-Door
6.7L 6651CC 406Cu. In. V8 DIESEL OHV Turbocharged
2015
Ford
F-250 Super Duty
XL Extended Cab Pickup 4-Door
6.2L 6210CC 379Cu. In. V8 FLEX SOHC Naturally Aspirated
2015
Ford
F-250 Super Duty
XL Extended Cab Pickup 4-Door
6.7L 6651CC 406Cu. In. V8 DIESEL OHV Turbocharged
2015
Ford
F-250 Super Duty
XL Standard Cab Pickup 2-Door
6.2L 6210CC 379Cu. In. V8 FLEX SOHC Naturally Aspirated
2015
Ford
F-250 Super Duty
XL Standard Cab Pickup 2-Door
6.7L 6651CC 406Cu. In. V8 DIESEL OHV Turbocharged
2015
Ford
F-250 Super Duty
XLT Crew Cab Pickup 4-Door
6.2L 6210CC 379Cu. In. V8 FLEX SOHC Naturally Aspirated
2015
Ford
F-250 Super Duty
XLT Crew Cab Pickup 4-Door
6.7L 6651CC 406Cu. In. V8 DIESEL OHV Turbocharged
2015
Ford
F-250 Super Duty
XLT Extended Cab Pickup 4-Door
6.2L 6210CC 379Cu. In. V8 FLEX SOHC Naturally Aspirated
2015
Ford
F-250 Super Duty
XLT Extended Cab Pickup 4-Door
6.7L 6651CC 406Cu. In. V8 DIESEL OHV Turbocharged
2015
Ford
F-250 Super Duty
XLT Standard Cab Pickup 2-Door
6.2L 6210CC 379Cu. In. V8 FLEX SOHC Naturally Aspirated
2015
Ford
F-250 Super Duty
XLT Standard Cab Pickup 2-Door
6.7L 6651CC 406Cu. In. V8 DIESEL OHV Turbocharged
2015
Ford
F-350 Super Duty
King Ranch Crew Cab Pickup 4-Door
6.2L 6210CC 379Cu. In. V8 FLEX SOHC Naturally Aspirated
2015
Ford
F-350 Super Duty
King Ranch Crew Cab Pickup 4-Door
6.7L 6651CC 406Cu. In. V8 DIESEL OHV Turbocharged
2015
Ford
F-350 Super Duty
Lariat Cab & Chassis 4-Door
6.2L 6210CC 379Cu. In. V8 FLEX SOHC Naturally Aspirated
2015
Ford
F-350 Super Duty
Lariat Cab & Chassis 4-Door
6.7L 6651CC 406Cu. In. V8 DIESEL OHV Turbocharged
2015
Ford
F-350 Super Duty
Lariat Crew Cab Pickup 4-Door
6.2L 6210CC 379Cu. In. V8 FLEX SOHC Naturally Aspirated
2015
Ford
F-350 Super Duty
Lariat Crew Cab Pickup 4-Door
6.7L 6651CC 406Cu. In. V8 DIESEL OHV Turbocharged
2015
Ford
F-350 Super Duty
Lariat Extended Cab Pickup 4-Door
6.2L 6210CC 379Cu. In. V8 FLEX SOHC Naturally Aspirated
2015
Ford
F-350 Super Duty
Lariat Extended Cab Pickup 4-Door
6.7L 6651CC 406Cu. In. V8 DIESEL OHV Turbocharged
2015
Ford
F-350 Super Duty
XL Cab & Chassis 2-Door
6.2L 6210CC 379Cu. In. V8 FLEX SOHC Naturally Aspirated
2015
Ford
F-350 Super Duty
XL Cab & Chassis 2-Door
6.7L 6651CC 406Cu. In. V8 DIESEL OHV Turbocharged
2015
Ford
F-350 Super Duty
XL Cab & Chassis 4-Door
6.2L 6210CC 379Cu. In. V8 FLEX SOHC Naturally Aspirated
2015
Ford
F-350 Super Duty
XL Cab & Chassis 4-Door
6.7L 6651CC 406Cu. In. V8 DIESEL OHV Turbocharged
2015
Ford
F-350 Super Duty
XL Crew Cab Pickup 4-Door
6.2L 6210CC 379Cu. In. V8 FLEX SOHC Naturally Aspirated
2015
Ford
F-350 Super Duty
XL Crew Cab Pickup 4-Door
6.7L 6651CC 406Cu. In. V8 DIESEL OHV Turbocharged
2015
Ford
F-350 Super Duty
XL Extended Cab Pickup 4-Door
6.2L 6210CC 379Cu. In. V8 FLEX SOHC Naturally Aspirated
2015
Ford
F-350 Super Duty
XL Extended Cab Pickup 4-Door
6.7L 6651CC 406Cu. In. V8 DIESEL OHV Turbocharged
2015
Ford
F-350 Super Duty
XL Standard Cab Pickup 2-Door
6.2L 6210CC 379Cu. In. V8 FLEX SOHC Naturally Aspirated
2015
Ford
F-350 Super Duty
XL Standard Cab Pickup 2-Door
6.7L 6651CC 406Cu. In. V8 DIESEL OHV Turbocharged
2015
Ford
F-350 Super Duty
XLT Cab & Chassis 2-Door
6.2L 6210CC 379Cu. In. V8 FLEX SOHC Naturally Aspirated
2015
Ford
F-350 Super Duty
XLT Cab & Chassis 2-Door
6.7L 6651CC 406Cu. In. V8 DIESEL OHV Turbocharged
2015
Ford
F-350 Super Duty
XLT Cab & Chassis 4-Door
6.2L 6210CC 379Cu. In. V8 FLEX SOHC Naturally Aspirated
2015
Ford
F-350 Super Duty
XLT Cab & Chassis 4-Door
6.7L 6651CC 406Cu. In. V8 DIESEL OHV Turbocharged
2015
Ford
F-350 Super Duty
XLT Crew Cab Pickup 4-Door
6.2L 6210CC 379Cu. In. V8 FLEX SOHC Naturally Aspirated
2015
Ford
F-350 Super Duty
XLT Crew Cab Pickup 4-Door
6.7L 6651CC 406Cu. In. V8 DIESEL OHV Turbocharged
2015
Ford
F-350 Super Duty
XLT Extended Cab Pickup 4-Door
6.2L 6210CC 379Cu. In. V8 FLEX SOHC Naturally Aspirated
2015
Ford
F-350 Super Duty
XLT Extended Cab Pickup 4-Door
6.7L 6651CC 406Cu. In. V8 DIESEL OHV Turbocharged
2015
Ford
F-350 Super Duty
XLT Standard Cab Pickup 2-Door
6.2L 6210CC 379Cu. In. V8 FLEX SOHC Naturally Aspirated
2015
Ford
F-350 Super Duty
XLT Standard Cab Pickup 2-Door
6.7L 6651CC 406Cu. In. V8 DIESEL OHV Turbocharged
2015
Ford
F-450 Super Duty
King Ranch Crew Cab Pickup 4-Door
6.7L 6651CC 406Cu. In. V8 DIESEL OHV Turbocharged
2015
Ford
F-450 Super Duty
Lariat Cab & Chassis - Crew Cab 4-Door
6.7L 6651CC 406Cu. In. V8 DIESEL OHV Turbocharged
2015
Ford
F-450 Super Duty
Lariat Cab & Chassis - Extended Cab 4-Door
6.7L 6651CC 406Cu. In. V8 DIESEL OHV Turbocharged
2015
Ford
F-450 Super Duty
Lariat Crew Cab Pickup 4-Door
6.7L 6651CC 406Cu. In. V8 DIESEL OHV Turbocharged
2015
Ford
F-450 Super Duty
XL Cab & Chassis - Crew Cab 4-Door
6.7L 6651CC 406Cu. In. V8 DIESEL OHV Turbocharged
2015
Ford
F-450 Super Duty
XL Cab & Chassis - Crew Cab 4-Door
6.8L 415Cu. In. V10 CNG SOHC Naturally Aspirated
2015
Ford
F-450 Super Duty
XL Cab & Chassis - Crew Cab 4-Door
6.8L 415Cu. In. V10 GAS SOHC Naturally Aspirated
2015
Ford
F-450 Super Duty
XL Cab & Chassis - Crew Cab 4-Door
6.8L 415Cu. In. V10 LPG SOHC Naturally Aspirated
2015
Ford
F-450 Super Duty
XL Cab & Chassis - Extended Cab 4-Door
6.7L 6651CC 406Cu. In. V8 DIESEL OHV Turbocharged
2015
Ford
F-450 Super Duty
XL Cab & Chassis - Extended Cab 4-Door
6.8L 415Cu. In. V10 CNG SOHC Naturally Aspirated
2015
Ford
F-450 Super Duty
XL Cab & Chassis - Extended Cab 4-Door
6.8L 415Cu. In. V10 GAS SOHC Naturally Aspirated
2015
Ford
F-450 Super Duty
XL Cab & Chassis - Extended Cab 4-Door
6.8L 415Cu. In. V10 LPG SOHC Naturally Aspirated
2015
Ford
F-450 Super Duty
XL Crew Cab Pickup 4-Door
6.7L 6651CC 406Cu. In. V8 DIESEL OHV Turbocharged
2015
Ford
F-450 Super Duty
XL Crew Cab Pickup 4-Door
6.8L 415Cu. In. V10 CNG SOHC Naturally Aspirated
2015
Ford
F-450 Super Duty
XL Crew Cab Pickup 4-Door
6.8L 415Cu. In. V10 GAS SOHC Naturally Aspirated
2015
Ford
F-450 Super Duty
XL Crew Cab Pickup 4-Door
6.8L 415Cu. In. V10 LPG SOHC Naturally Aspirated
2015
Ford
F-450 Super Duty
XL Extended Cab Pickup 4-Door
6.7L 6651CC 406Cu. In. V8 DIESEL OHV Turbocharged
2015
Ford
F-450 Super Duty
XL Extended Cab Pickup 4-Door
6.8L 415Cu. In. V10 CNG SOHC Naturally Aspirated
2015
Ford
F-450 Super Duty
XL Extended Cab Pickup 4-Door
6.8L 415Cu. In. V10 GAS SOHC Naturally Aspirated
2015
Ford
F-450 Super Duty
XL Extended Cab Pickup 4-Door
6.8L 415Cu. In. V10 LPG SOHC Naturally Aspirated
2015
Ford
F-450 Super Duty
XLT Cab & Chassis - Extended Cab 4-Door
6.7L 6651CC 406Cu. In. V8 DIESEL OHV Turbocharged
2015
Ford
F-450 Super Duty
XLT Cab & Chassis - Extended Cab 4-Door
6.8L 415Cu. In. V10 CNG SOHC Naturally Aspirated
2015
Ford
F-450 Super Duty
XLT Cab & Chassis - Extended Cab 4-Door
6.8L 415Cu. In. V10 GAS SOHC Naturally Aspirated
2015
Ford
F-450 Super Duty
XLT Cab & Chassis - Extended Cab 4-Door
6.8L 415Cu. In. V10 LPG SOHC Naturally Aspirated
2015
Ford
F-450 Super Duty
XLT Crew Cab Pickup 4-Door
6.7L 6651CC 406Cu. In. V8 DIESEL OHV Turbocharged
2015
Ford
F-450 Super Duty
XLT Crew Cab Pickup 4-Door
6.8L 415Cu. In. V10 CNG SOHC Naturally Aspirated
2015
Ford
F-450 Super Duty
XLT Crew Cab Pickup 4-Door
6.8L 415Cu. In. V10 GAS SOHC Naturally Aspirated
2015
Ford
F-450 Super Duty
XLT Crew Cab Pickup 4-Door
6.8L 415Cu. In. V10 LPG SOHC Naturally Aspirated
2015
Ford
F-550 Super Duty
Lariat Cab & Chassis - Crew Cab 4-Door
6.7L 6651CC 406Cu. In. V8 DIESEL OHV Turbocharged
2015
Ford
F-550 Super Duty
Lariat Cab & Chassis - Extended Cab 4-Door
6.7L 6651CC 406Cu. In. V8 DIESEL OHV Turbocharged
2015
Ford
F-550 Super Duty
XL Cab & Chassis - Crew Cab 4-Door
6.7L 6651CC 406Cu. In. V8 DIESEL OHV Turbocharged
2015
Ford
F-550 Super Duty
XL Cab & Chassis - Crew Cab 4-Door
6.8L 415Cu. In. V10 CNG SOHC Naturally Aspirated
2015
Ford
F-550 Super Duty
XL Cab & Chassis - Crew Cab 4-Door
6.8L 415Cu. In. V10 GAS SOHC Naturally Aspirated
2015
Ford
F-550 Super Duty
XL Cab & Chassis - Crew Cab 4-Door
6.8L 415Cu. In. V10 LPG SOHC Naturally Aspirated
2015
Ford
F-550 Super Duty
XL Cab & Chassis - Extended Cab 4-Door
6.7L 6651CC 406Cu. In. V8 DIESEL OHV Turbocharged
2015
Ford
F-550 Super Duty
XL Cab & Chassis - Extended Cab 4-Door
6.8L 415Cu. In. V10 CNG SOHC Naturally Aspirated
2015
Ford
F-550 Super Duty
XL Cab & Chassis - Extended Cab 4-Door
6.8L 415Cu. In. V10 GAS SOHC Naturally Aspirated
2015
Ford
F-550 Super Duty
XL Cab & Chassis - Extended Cab 4-Door
6.8L 415Cu. In. V10 LPG SOHC Naturally Aspirated
2015
Ford
F-550 Super Duty
XLT Cab & Chassis - Crew Cab 4-Door
6.7L 6651CC 406Cu. In. V8 DIESEL OHV Turbocharged
2015
Ford
F-550 Super Duty
XLT Cab & Chassis - Crew Cab 4-Door
6.8L 415Cu. In. V10 CNG SOHC Naturally Aspirated
2015
Ford
F-550 Super Duty
XLT Cab & Chassis - Crew Cab 4-Door
6.8L 415Cu. In. V10 GAS SOHC Naturally Aspirated
2015
Ford
F-550 Super Duty
XLT Cab & Chassis - Crew Cab 4-Door
6.8L 415Cu. In. V10 LPG SOHC Naturally Aspirated
2015
Ford
F-550 Super Duty
XLT Cab & Chassis - Extended Cab 4-Door
6.7L 6651CC 406Cu. In. V8 DIESEL OHV Turbocharged
2015
Ford
F-550 Super Duty
XLT Cab & Chassis - Extended Cab 4-Door
6.8L 415Cu. In. V10 CNG SOHC Naturally Aspirated
2015
Ford
F-550 Super Duty
XLT Cab & Chassis - Extended Cab 4-Door
6.8L 415Cu. In. V10 GAS SOHC Naturally Aspirated
2015
Ford
F-550 Super Duty
XLT Cab & Chassis - Extended Cab 4-Door
6.8L 415Cu. In. V10 LPG SOHC Naturally Aspirated
2014
Ford
F-250 Super Duty
King Ranch Crew Cab Pickup 4-Door
6.2L 6210CC 379Cu. In. V8 FLEX SOHC Naturally Aspirated
2014
Ford
F-250 Super Duty
King Ranch Crew Cab Pickup 4-Door
6.7L 6651CC 406Cu. In. V8 DIESEL OHV Turbocharged
2014
Ford
F-250 Super Duty
Lariat Crew Cab Pickup 4-Door
6.2L 6210CC 379Cu. In. V8 FLEX SOHC Naturally Aspirated
2014
Ford
F-250 Super Duty
Lariat Crew Cab Pickup 4-Door
6.7L 6651CC 406Cu. In. V8 DIESEL OHV Turbocharged
2014
Ford
F-250 Super Duty
Lariat Extended Cab Pickup 4-Door
6.2L 6210CC 379Cu. In. V8 FLEX SOHC Naturally Aspirated
2014
Ford
F-250 Super Duty
Lariat Extended Cab Pickup 4-Door
6.7L 6651CC 406Cu. In. V8 DIESEL OHV Turbocharged
2014
Ford
F-250 Super Duty
XL Crew Cab Pickup 4-Door
6.2L 6210CC 379Cu. In. V8 FLEX SOHC Naturally Aspirated
2014
Ford
F-250 Super Duty
XL Crew Cab Pickup 4-Door
6.7L 6651CC 406Cu. In. V8 DIESEL OHV Turbocharged
2014
Ford
F-250 Super Duty
XL Extended Cab Pickup 4-Door
6.2L 6210CC 379Cu. In. V8 FLEX SOHC Naturally Aspirated
2014
Ford
F-250 Super Duty
XL Extended Cab Pickup 4-Door
6.7L 6651CC 406Cu. In. V8 DIESEL OHV Turbocharged
2014
Ford
F-250 Super Duty
XL Standard Cab Pickup 2-Door
6.2L 6210CC 379Cu. In. V8 FLEX SOHC Naturally Aspirated
2014
Ford
F-250 Super Duty
XL Standard Cab Pickup 2-Door
6.7L 6651CC 406Cu. In. V8 DIESEL OHV Turbocharged
2014
Ford
F-250 Super Duty
XLT Crew Cab Pickup 4-Door
6.2L 6210CC 379Cu. In. V8 FLEX SOHC Naturally Aspirated
2014
Ford
F-250 Super Duty
XLT Crew Cab Pickup 4-Door
6.7L 6651CC 406Cu. In. V8 DIESEL OHV Turbocharged
2014
Ford
F-250 Super Duty
XLT Extended Cab Pickup 4-Door
6.2L 6210CC 379Cu. In. V8 FLEX SOHC Naturally Aspirated
2014
Ford
F-250 Super Duty
XLT Extended Cab Pickup 4-Door
6.7L 6651CC 406Cu. In. V8 DIESEL OHV Turbocharged
2014
Ford
F-250 Super Duty
XLT Standard Cab Pickup 2-Door
6.2L 6210CC 379Cu. In. V8 FLEX SOHC Naturally Aspirated
2014
Ford
F-250 Super Duty
XLT Standard Cab Pickup 2-Door
6.7L 6651CC 406Cu. In. V8 DIESEL OHV Turbocharged
2014
Ford
F-350 Super Duty
King Ranch Crew Cab Pickup 4-Door
6.2L 6210CC 379Cu. In. V8 FLEX SOHC Naturally Aspirated
2014
Ford
F-350 Super Duty
King Ranch Crew Cab Pickup 4-Door
6.7L 6651CC 406Cu. In. V8 DIESEL OHV Turbocharged
2014
Ford
F-350 Super Duty
Lariat Cab & Chassis 4-Door
6.2L 6210CC 379Cu. In. V8 FLEX SOHC Naturally Aspirated
2014
Ford
F-350 Super Duty
Lariat Cab & Chassis 4-Door
6.7L 6651CC 406Cu. In. V8 DIESEL OHV Turbocharged
2014
Ford
F-350 Super Duty
Lariat Crew Cab Pickup 4-Door
6.2L 6210CC 379Cu. In. V8 FLEX SOHC Naturally Aspirated
2014
Ford
F-350 Super Duty
Lariat Crew Cab Pickup 4-Door
6.7L 6651CC 406Cu. In. V8 DIESEL OHV Turbocharged
2014
Ford
F-350 Super Duty
Lariat Extended Cab Pickup 4-Door
6.2L 6210CC 379Cu. In. V8 FLEX SOHC Naturally Aspirated
2014
Ford
F-350 Super Duty
Lariat Extended Cab Pickup 4-Door
6.7L 6651CC 406Cu. In. V8 DIESEL OHV Turbocharged
2014
Ford
F-350 Super Duty
XL Cab & Chassis 2-Door
6.2L 6210CC 379Cu. In. V8 FLEX SOHC Naturally Aspirated
2014
Ford
F-350 Super Duty
XL Cab & Chassis 2-Door
6.7L 6651CC 406Cu. In. V8 DIESEL OHV Turbocharged
2014
Ford
F-350 Super Duty
XL Cab & Chassis 4-Door
6.2L 6210CC 379Cu. In. V8 FLEX SOHC Naturally Aspirated
2014
Ford
F-350 Super Duty
XL Cab & Chassis 4-Door
6.7L 6651CC 406Cu. In. V8 DIESEL OHV Turbocharged
2014
Ford
F-350 Super Duty
XL Crew Cab Pickup 4-Door
6.2L 6210CC 379Cu. In. V8 FLEX SOHC Naturally Aspirated
2014
Ford
F-350 Super Duty
XL Crew Cab Pickup 4-Door
6.7L 6651CC 406Cu. In. V8 DIESEL OHV Turbocharged
2014
Ford
F-350 Super Duty
XL Extended Cab Pickup 4-Door
6.2L 6210CC 379Cu. In. V8 FLEX SOHC Naturally Aspirated
2014
Ford
F-350 Super Duty
XL Extended Cab Pickup 4-Door
6.7L 6651CC 406Cu. In. V8 DIESEL OHV Turbocharged
2014
Ford
F-350 Super Duty
XL Standard Cab Pickup 2-Door
6.2L 6210CC 379Cu. In. V8 FLEX SOHC Naturally Aspirated
2014
Ford
F-350 Super Duty
XL Standard Cab Pickup 2-Door
6.7L 6651CC 406Cu. In. V8 DIESEL OHV Turbocharged
2014
Ford
F-350 Super Duty
XLT Cab & Chassis 2-Door
6.2L 6210CC 379Cu. In. V8 FLEX SOHC Naturally Aspirated
2014
Ford
F-350 Super Duty
XLT Cab & Chassis 2-Door
6.7L 6651CC 406Cu. In. V8 DIESEL OHV Turbocharged
2014
Ford
F-350 Super Duty
XLT Cab & Chassis 4-Door
6.2L 6210CC 379Cu. In. V8 FLEX SOHC Naturally Aspirated
2014
Ford
F-350 Super Duty
XLT Cab & Chassis 4-Door
6.7L 6651CC 406Cu. In. V8 DIESEL OHV Turbocharged
2014
Ford
F-350 Super Duty
XLT Crew Cab Pickup 4-Door
6.2L 6210CC 379Cu. In. V8 FLEX SOHC Naturally Aspirated
2014
Ford
F-350 Super Duty
XLT Crew Cab Pickup 4-Door
6.7L 6651CC 406Cu. In. V8 DIESEL OHV Turbocharged
2014
Ford
F-350 Super Duty
XLT Extended Cab Pickup 4-Door
6.2L 6210CC 379Cu. In. V8 FLEX SOHC Naturally Aspirated
2014
Ford
F-350 Super Duty
XLT Extended Cab Pickup 4-Door
6.7L 6651CC 406Cu. In. V8 DIESEL OHV Turbocharged
2014
Ford
F-350 Super Duty
XLT Standard Cab Pickup 2-Door
6.2L 6210CC 379Cu. In. V8 FLEX SOHC Naturally Aspirated
2014
Ford
F-350 Super Duty
XLT Standard Cab Pickup 2-Door
6.7L 6651CC 406Cu. In. V8 DIESEL OHV Turbocharged
2014
Ford
F-450 Super Duty
King Ranch Crew Cab Pickup 4-Door
6.7L 6651CC 406Cu. In. V8 DIESEL OHV Turbocharged
2014
Ford
F-450 Super Duty
Lariat Cab & Chassis - Crew Cab 4-Door
6.7L 6651CC 406Cu. In. V8 DIESEL OHV Turbocharged
2014
Ford
F-450 Super Duty
Lariat Cab & Chassis - Extended Cab 4-Door
6.7L 6651CC 406Cu. In. V8 DIESEL OHV Turbocharged
2014
Ford
F-450 Super Duty
Lariat Crew Cab Pickup 4-Door
6.7L 6651CC 406Cu. In. V8 DIESEL OHV Turbocharged
2014
Ford
F-450 Super Duty
XL Cab & Chassis - Crew Cab 4-Door
6.7L 6651CC 406Cu. In. V8 DIESEL OHV Turbocharged
2014
Ford
F-450 Super Duty
XL Cab & Chassis - Crew Cab 4-Door
6.8L 415Cu. In. V10 GAS SOHC Naturally Aspirated
2014
Ford
F-450 Super Duty
XL Cab & Chassis - Extended Cab 4-Door
6.7L 6651CC 406Cu. In. V8 DIESEL OHV Turbocharged
2014
Ford
F-450 Super Duty
XL Cab & Chassis - Extended Cab 4-Door
6.8L 415Cu. In. V10 GAS SOHC Naturally Aspirated
2014
Ford
F-450 Super Duty
XL Crew Cab Pickup 4-Door
6.7L 6651CC 406Cu. In. V8 DIESEL OHV Turbocharged
2014
Ford
F-450 Super Duty
XL Crew Cab Pickup 4-Door
6.8L 415Cu. In. V10 GAS SOHC Naturally Aspirated
2014
Ford
F-450 Super Duty
XLT Cab & Chassis - Extended Cab 4-Door
6.7L 6651CC 406Cu. In. V8 DIESEL OHV Turbocharged
2014
Ford
F-450 Super Duty
XLT Cab & Chassis - Extended Cab 4-Door
6.8L 415Cu. In. V10 GAS SOHC Naturally Aspirated
2014
Ford
F-450 Super Duty
XLT Crew Cab Pickup 4-Door
6.7L 6651CC 406Cu. In. V8 DIESEL OHV Turbocharged
2014
Ford
F-450 Super Duty
XLT Crew Cab Pickup 4-Door
6.8L 415Cu. In. V10 GAS SOHC Naturally Aspirated
2014
Ford
F-550 Super Duty
Lariat Cab & Chassis - Crew Cab 4-Door
6.7L 6651CC 406Cu. In. V8 DIESEL OHV Turbocharged
2014
Ford
F-550 Super Duty
Lariat Cab & Chassis - Extended Cab 4-Door
6.7L 6651CC 406Cu. In. V8 DIESEL OHV Turbocharged
2014
Ford
F-550 Super Duty
XL Cab & Chassis - Crew Cab 4-Door
6.7L 6651CC 406Cu. In. V8 DIESEL OHV Turbocharged
2014
Ford
F-550 Super Duty
XL Cab & Chassis - Crew Cab 4-Door
6.8L 415Cu. In. V10 GAS SOHC Naturally Aspirated
2014
Ford
F-550 Super Duty
XL Cab & Chassis - Extended Cab 4-Door
6.7L 6651CC 406Cu. In. V8 DIESEL OHV Turbocharged
2014
Ford
F-550 Super Duty
XL Cab & Chassis - Extended Cab 4-Door
6.8L 415Cu. In. V10 GAS SOHC Naturally Aspirated
2014
Ford
F-550 Super Duty
XLT Cab & Chassis - Crew Cab 4-Door
6.7L 6651CC 406Cu. In. V8 DIESEL OHV Turbocharged
2014
Ford
F-550 Super Duty
XLT Cab & Chassis - Crew Cab 4-Door
6.8L 415Cu. In. V10 GAS SOHC Naturally Aspirated
2014
Ford
F-550 Super Duty
XLT Cab & Chassis - Extended Cab 4-Door
6.7L 6651CC 406Cu. In. V8 DIESEL OHV Turbocharged
2014
Ford
F-550 Super Duty
XLT Cab & Chassis - Extended Cab 4-Door
6.8L 415Cu. In. V10 GAS SOHC Naturally Aspirated
2013
Ford
F-250 Super Duty
King Ranch Crew Cab Pickup 4-Door
6.2L 6210CC 379Cu. In. V8 FLEX SOHC Naturally Aspirated
2013
Ford
F-250 Super Duty
King Ranch Crew Cab Pickup 4-Door
6.7L 6651CC 406Cu. In. V8 DIESEL OHV Turbocharged
2013
Ford
F-250 Super Duty
Lariat Crew Cab Pickup 4-Door
6.2L 6210CC 379Cu. In. V8 FLEX SOHC Naturally Aspirated
2013
Ford
F-250 Super Duty
Lariat Crew Cab Pickup 4-Door
6.7L 6651CC 406Cu. In. V8 DIESEL OHV Turbocharged
2013
Ford
F-250 Super Duty
Lariat Extended Cab Pickup 4-Door
6.2L 6210CC 379Cu. In. V8 FLEX SOHC Naturally Aspirated
2013
Ford
F-250 Super Duty
Lar